Who are we?
Companies need to become data-driven companies in order to compete and thrive.
They need both to consume a lot of data, easily and from multiple sources, and to generate new revenue streams from the commercialization of their data assets.
Dawex is a leading data exchange technology company and the operator of the largest global data marketplace. With Dawex technology organizations orchestrate data circulation by sourcing, monetizing and exchanging data directly without intermediary, securely, efficiently and in full compliance with regulations leveraging the blockchain technology to ensure the integrity of licensing contracts.
On Dawex Global Data Marketplace, each organization is rigorously vetted with a strict process to ensure its identity.
Companies can monetize datasets and APIs, raw data, refined data & insights. Any kind of data are traded: customer and product-related data, financial data, IoT data, licensed as one-off deals or subscriptions.
With Dawex Global Data Marketplace providers can highlight the value of their data while retaining full control over the distribution and configuration of usage rights. Dawex Global Data Marketplace enables organizations to find the most relevant data sources, to schedule recurring data exchanges over time, and to receive notifications on new opportunities.
Our approach is based on data privacy by design and by default. Therefore it ensures that each organization benefits from all necessary information to comply with legal obligations, particularly when transferring data containing personal information.
Today more than 7,000 organizations from 20+ industries such as agriculture, air & space, automobile, financial services & insurance, construction, energy, logistics & transportation, retail, telco, travel & hospitality, rely on Dawex Global Data Marketplace and Data Exchange Platform to build their data exchange strategy. Gartner, Forrester, 451Research and other renowned research firms recognize Dawex as a pioneer in the growing data economy.
We are a team of experienced engineers, developers and data scientists based in France, in the United States and Canada.
Dawex Mission is to create the conditions for the smooth development of the data economy by facilitating the exchange of data between companies and organizations.
In the history of global economy, business exchanges started thousands years ago with Commodity Exchange, followed by between 14th and 16th century the first Stock Exchange. 21th century will make history with the creation of the third pillar of the economy: Data Exchange. Our ambition at Dawex is to build cutting-edge technology for data trading to facilitate cross border data circulation and make data exchange accessible and secure for all economic stakeholders.
Data Exchange in Motion
Our story
October Laureate of French Digital Innovation Competition
May Selected to be part of french acceleration program Bpifrance Le Hub Data • Monetization Expert to the European Commission
June Seed of 2M€ with Caisse des Dépôts
August Laureate of the call for projects Personal Data Protection (French Ministry for the Economy) • Opening of an office in Montreal
November Member of the UK-French Data Taskforce "Data Driven Growth"
January Commercial launch of the Data Marketplace
March Datamonetization for IOT • Datamonetization for Smart City • Partnership with PwC
April Impact USA acceleration program • Blockchain & Smart Contract technology
July Opening of an office in San Francisco
October Speaker at OECD Workshop • Partnership with mnubo • Winner of International Digital Trophies
March 3000 companies have registered on Dawex
June Gold Award Winner in "High Tech under $30 million in revenue or funding" category
September Commercial launch of the Data Exchange Platform
October Funding from the European Union's Horizon 2020 research and innovation programm under grant agreement n°829729
May 7000+ companies rely on Dawex Technology • Fund raising of €5.5m to accelerate the development of the data economy
September Dawex named "Late-Stage Data Marketplace Vendor" in Forrester "New Tech: Data Marketplaces, Q3 2019" Report
October Winner of "The Most Innovative Company in Smart City Challenges" Award from Business France, Amadeus and Air France
Awards & Expertise
Young Innovative Company
Winner Digital Innovation Competition 2015
Winner of the 2016 Personal Data Protection Call for Proposals
Winner of the Trophées de l'International du Numérique 2017
Winner of the Gold Award at the French American Business Awards 2018 in the category "High tech under $ 30 million in revenue or funding"
Winner of "The Most Innovative Company in Smart City Challenges" Award from Business France, Amadeus and Air France
Offices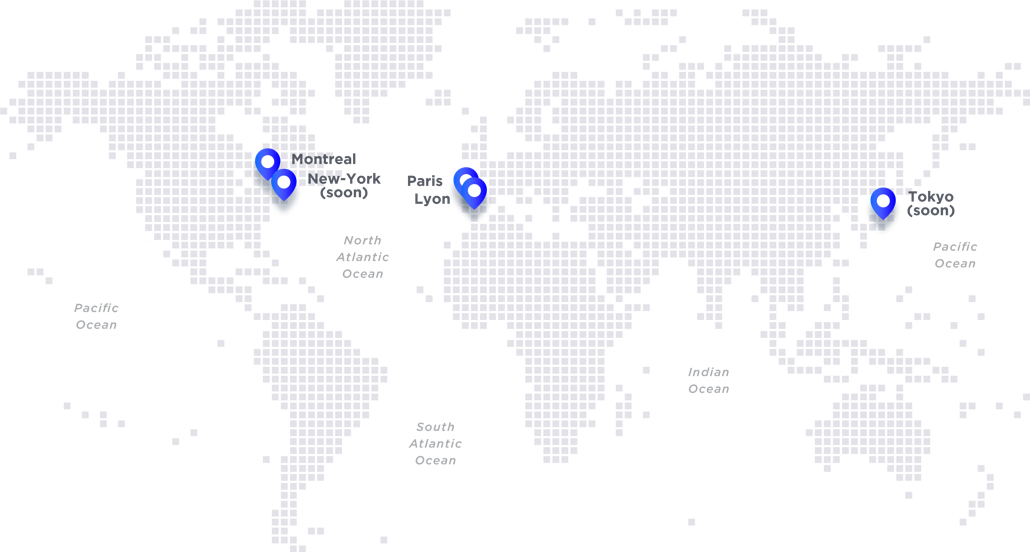 Our collaborations
Member of :



Accelerated by :