Dawex Data Exchange Advisory
Rely on our experts to build a winning Data Exchange strategy for your organization.
As data maturity is progressing in private and public organizations, the question of leveraging organizations' data assets to create value becomes more and more central. Engaged in defining your organization's data strategy, you certainly wonder: Should my organization distribute data to other companies to create direct revenues ? Should my organization share data internally/externally to improve operations or boost market efficiency ? Should my organization organize data exchanges in our ecosystem to strengthen its performance and resilience? What value can my organization expect from a data exchange strategy, and how should we organize to deliver it?
Dawex Data Exchange Advisory helps your organization structure and tackle these questions, and kickstart the design & implementation of your Data Exchange strategy.
Leverage a team of experts with years of experience and proven methodologies
Dawex has developed strong market expertise on data exchange through multiple cross-disciplinary projects in more than 15 industries around the world, and structured best practices. Dawex team of experts has supported its customers in designing and implementing sound & value creating Data Exchange strategies, based on various business models, covering data distribution, Data Exchange, data sourcing, data sharing in Data Marketplace or Data Hub models.
Dawex Data Exchange Advisory relies on an efficient workshop-based methodology, where Dawex advisors weave their expertise with the knowledge and vision of a small team of your organization managers. Together, in a span of weeks, they develop your organization's Data Exchange strategy, tackling vision, use cases, business model, organization and implementation challenges.
Build a Data Exchange vision and strategy
Dawex Data Exchange Advisory helps your organization frame its Data Exchange strategy and high level business model, by answering the following questions:
What is my organization's business ecosystem, and its position in the value chain?
Who are the stakeholders in this ecosystem, near or distant?
What are the key issues faced by my ecosystem stakeholders?
How can data exchange help solve pain points faced by my organization and/or other stakeholders of my ecosystem?
What are the existing data exchange initiatives in my ecosystem?
Should my organization focus on data distribution, data sourcing, data sharing, orchestrating the data ecosystem, or a mix of them?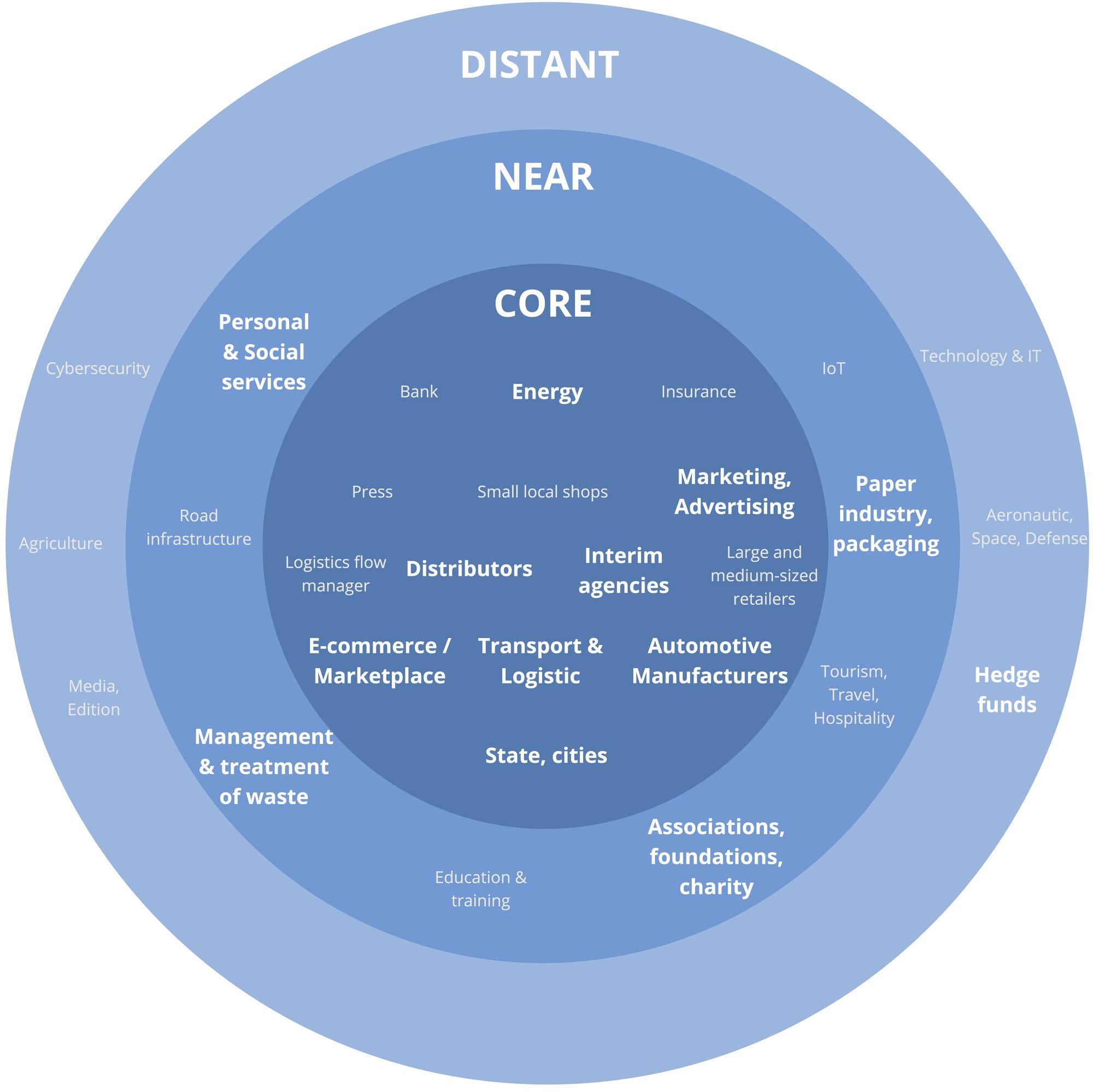 Identify use cases and data products
With Dawex experts, your organization will be able to develop a data product roadmap and prioritize use cases, by digging into a number of subjects:
What are my organization's data assets? Are they circulating yet? What would be the effort to transform it into data products?
What are the pain points, internal to my organization or faced by other ecosystem's stakeholders, that this data can help solve?
What are the data exchange use cases associated with these pain points?
What are the data products that need to be exchanged, shared or distributed to support these use cases?
Who are the target data acquirers for these data products? Can these data products serve several use cases or industries?
What are the priority use cases and data products that I need to implement, based on value (direct or indirect) and effort to produce?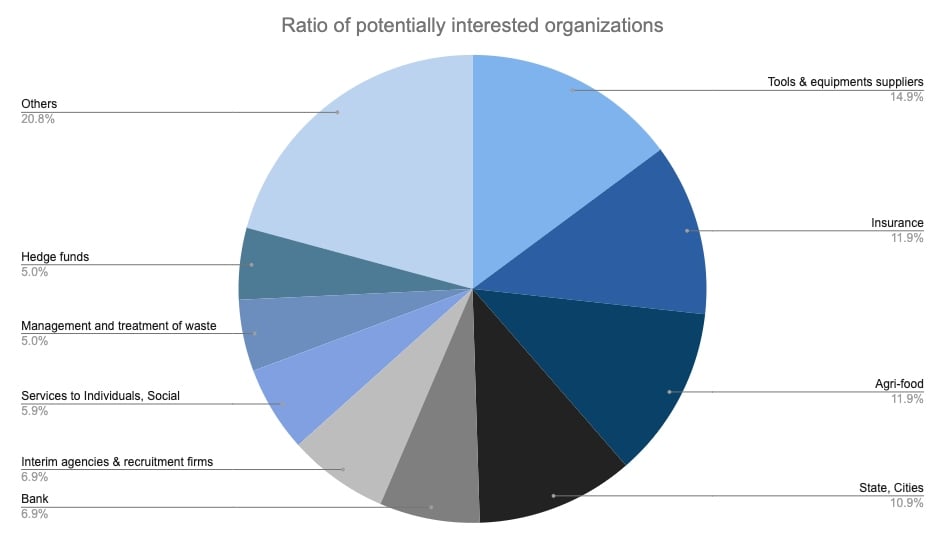 Define your business and revenue generation models
Based on the understanding of the data exchange use cases and the strategic goals of your organization, Dawex advisors support you in defining the most appropriate business models to you by answering the following questions:
Depending on the pain point and the data acquirer profile, what is the value of each data product exchanged?
Is the data product monetizable, for example through distribution or commercialization, or does it have an indirect value such as operational improvements?
What are the priority use cases and data products to develop on the data exchange roadmap, to maximize valorization ramp up?
What is the best suited model for my organization's data exchange strategy? A Corporate Data Hub, an Industry Data Hub or a Data Marketplace?
What is the revenue potential as an orchestrator of the data ecosystem? As a data provider?
What are the indirect benefits, operational, commercial or strategic that my organization can expect from its data exchange strategy?
How to build a sound business plan and obtain approval from my organization's engagement committee?
Install data exchange governance, compliance and organization
When dealing with data exchange, your organization should make sure the right data exchange governance is in place, and that data regulations are strictly implemented. Dawex advisors bring their expertise to help you tackle the most complex regulations and governance challenges and clarify the following issues:
How will data exchanges comply with GDPR or any other personal data regulation across the world?
Will data exchanges in my ecosystem comply with the Data Governance Act and the future Data Act?
What data exchange governance should be implemented in my data ecosystem? Should my organization operate the data exchanges under its brand, create a subsidiary or create a joint venture with partners of the ecosystem?
How to ensure value is shared between participants of the data ecosystem, thus creating a win-win environment fostering the growth of operations?
Setup Data Exchange operations and go-to-market
A successful Data Exchange strategy relies on efficient technical, business and go-to-market operations. Leveraging Dawex expertise and partners' network, your organization will be able to successfully answer operational questions:
What is the technical architecture and infrastructure needed to operate the data exchanges?
What are the business applications and processing environments I need to interconnect with the Data Exchange Platform to support the targeted data exchange use cases?
How to ensure that the data product roadmap is supported by business and IT processes internally?
What is the most appropriate go-to-market model? Who are the target participants for my data ecosystem, and what is the value proposition I need to elaborate to onboard these participants?
What is the profile and size of the business & operations team my organization needs to set up at launch? How will it grow in the future?
"Dawex Data Exchange Advisory was essential to define our requirements. During these workshops, we also realized the benefits that not only Mobivia, but also the entire mobility sector in Europe, could gain from the creation of a dedicated data marketplace. This led us to build a much larger ecosystem than the one we had originally imagined."
Business Data Lead, Mobivia
Kickstart your Data Exchange strategy
Looking for insights on how to launch or step up your organization's move toward Data Exchange?
Dawex puts its cross-disciplinary expertise, extensive market feedback and pragmatic tested approaches at your disposal.
Leverage the most advanced Data Exchange technology
Looking for the best technology to implement your Data Exchange strategy ?
Since 2015, Dawex has consistently invested in R&D to provide a leading edge Data Exchange technology which delivers trust, traceability, compliance and security for Data Exchanges, in all sectors and for all business cases.
Implement the solution best suited to your data business model
Looking to orchestrate a Corporate Data Hub, an Industry Data Hub or a Data Marketplace?
Dawex Data Exchange solution is flexible and business oriented, powering many business models across various industries.