Gaia-X at the heart of data exchange
Discover Dawex contributions to the works of the European association structuring and boosting the data economy by defining guiding principles of data exchange.
Towards a trustworthy, innovative and sovereign European data economy
Launched in 2019 by the German and French governments, Gaia-X is an association gathering 370+ members from 27 countries that aims to create a federated and secure European data infrastructure. Key to the development of the data economy, Data Exchange has been outlined as one of the four pillars defining Gaia-X Federation Services.
As a recognized expert in Data Exchange and a Day-1 member of the association, Dawex has been appointed member of Gaia-X Board of Directors, and actively contributes to the open and collaborative works undertaken by Gaia-X, notably by co-leading the Data Exchange Services Specification Working Group under the invitation of Gaia-X CTO.
"As a Member of the Board of Directors, I am focusing on promoting how critical it is for organizations to remain in control of data according to Gaia-X principles, in particular towards European industrial SMEs and subcontractors of major world leading organizations, in a context of strong European reindustrialization and in response to the decarbonization challenges of the economy and society at large. Applying Gaia-X principles is actually a key success factor for Europe's sovereignty and economy."
Laurent Lafaye, Dawex co-CEO, Member of Gaia-X Board of Directors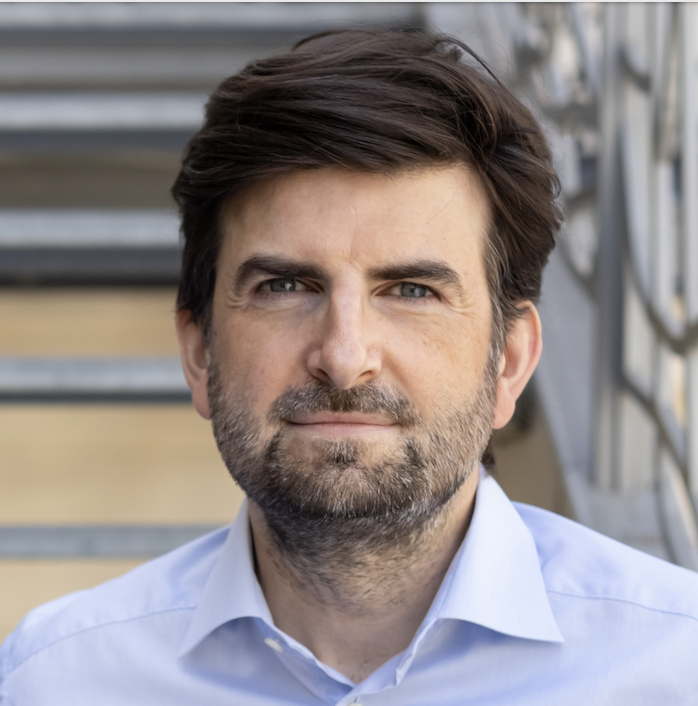 Fostering data spaces to boost the economy
In today's economy, the availability and sharing of data have been identified as one of the key dimensions for leveraging digitization and generating economic well-being in all sectors and for society as a whole. In particular, exchanging data between public and private organizations will create enormous opportunities and address global economic, environmental and social challenges.
In this perspective, one mission of Gaia-X is to initiate and support the creation of data spaces, illustrated by lighthouse projects in key sectors of the European economy such as:
Agriculture, to ensure data sharing over the full supply chain from Farm to Fork.
Energy, to support and accelerate the energy transition in Europe.
Mobility, to offer safer mobility for users and increase productivity.
Health, to maintain European sovereignty over health data and improve care provided to patients with big data and AI technologies.
Data Exchange is the cornerstone for establishing industry data hubs and leveraging data spaces. In today's economy, where data is recognized as a crucial strategic asset, organizations that successfully implement and excel in data circulation gain a competitive advantage within their ecosystem and extend their influence beyond it, contributing to the development of a sovereign and trustworthy data economy.
The Trust Framework, a cornerstone of Gaia-X compliance
The Gaia-X Trust Framework establishes the technical rules that determine the minimum basis for being part of the Gaia-X ecosystem. It operationalizes the requirements as defined by Gaia-X in the Architecture Document by defining the means to describe the participants and services of a data ecosystem in a consistent way, ensuring:
A trusted environment for all stakeholders
Control and protection over data
Transparency of operations
Data portability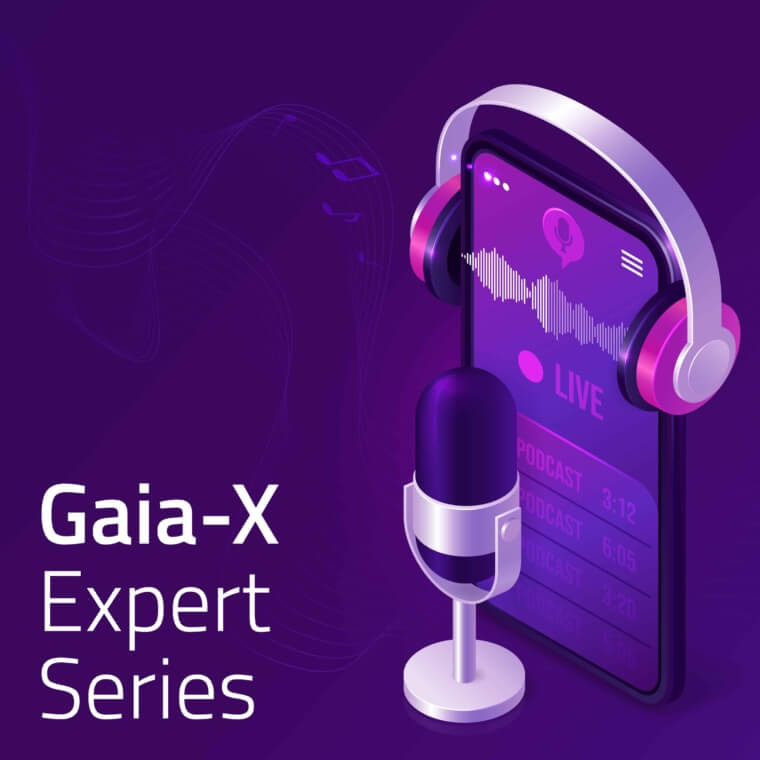 Dawex interviewed in the Gaia-X Expert Podcast Series
Dawex, represented by Frédéric Bellaiche, Vice-President Technology & Research and leading the Data Exchange Services working group, participated in an interview to deep dive into data exchange, its difference with data sharing, the breakthrough data exchange is currently facing, and the role Dawex and Gaia-X are playing in this market.
The Reference Architecture as the centerpiece of Gaia-X
This Reference Architecture strategic document contains a description of the Gaia-X architecture model. The purpose and resources of the association, but also the concepts required to be aligned with Gaia-X data and/or infrastructure ecosystems. The Reference Architecture document integrates a description of the stakeholders and services essential to exchanging data. These services include:
Federation Services
Service composition
Gaia-X operating model
Data Exchange
Gaia-X compliance
Securing identities
Implementing trust mechanisms
Monitoring data exchange usage
Maintaining compliance
The Data Exchange Services Specification, a set of rules for data exchange
The purpose of the Data Exchange Services Specification is to specify data exchange services, including the high-level architecture and key data value, trust and compliance requirements. Specifically, this entails:
The definition of data exchange services
The conceptual & operational models
Data exchange policies
Ontologies for data exchange
Dawex co-lead of the Gaia-X Data Exchange Services Specification Working Group
Dawex was invited by Gaia-X CTO to take the lead in the Data Exchange Services Specification Working Group, along with IDSA as co-lead. The release of the Data Exchange Services Specification document by Gaia-X is the outcome of a close and open collaboration among members of the Data Exchange Services Working Group.
This group of experts consisted of organizations from 8 different countries, spanning various industries such as technology, cloud, finance, telecommunications, automotive, and energy, who dedicated their efforts to produce a comprehensive specification paper on data exchange specification.
Supporting federated ecosystem with Gaia-X Federation Services
Dawex is an active member of the French Gaia-X Federation Services (GXFS-FR). GXFS offers a collection of open-source software components designed to facilitate the operationalization of a federated ecosystem of infrastructure and data that complies with Gaia-X standards.
Dawex is an active contributor to the GXFS-FR, supporting the prototyping of the specifications of the Gaia-X core and the associated developments in an open manner, for the benefit of the European industry.
Dawex latest contribution to the Gaia-X Magazine
The latest Gaia-X Magazine features an article written by Dawex and highlighting Gaia-X's advancement in data exchange.
The article focuses on the essential release of three pivotal documents: the Trust Framework, Reference Architecture, and Data Exchange Services Specification, which will play a key role in propelling the field of data exchange forward.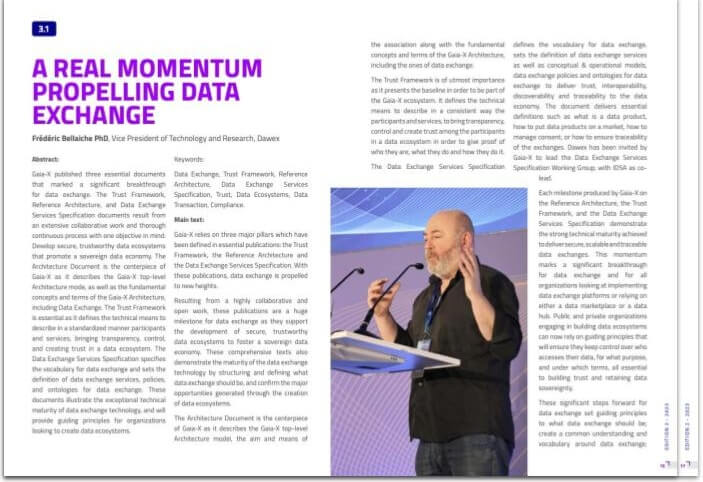 Leverage data opportunities with a technology implementing the Gaia-X Trust Framework
Dawex Data Exchange technology implements the Gaia-X Trust Framework for a secure and trustworthy Data Economy, illustrating the maturity of its Data Exchange technology and the power generated by creating data ecosystems.
Organizations engaging in building data ecosystems will now be able to rely on guiding principles that will ensure they keep control over who accesses their data, for which purpose and under which terms, that is essential to building trust and retaining data sovereignty.
"Agdatahub acts in support of a sustainable and efficient European agriculture by facilitating access to agriculture data thanks to Dawex technology, and empowering farmers to take back control of their data. Being appointed as one of the European pilot projects by Gaia-X is a great honor and highlights our continued commitment to supporting the EU agri-environmental transition for the benefit of farmers and consumers."
Sébastien Picardat, CEO of Agdatahub. Agdatahub, a Lighthouse Project for Gaia-X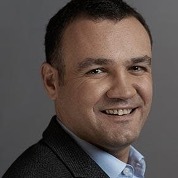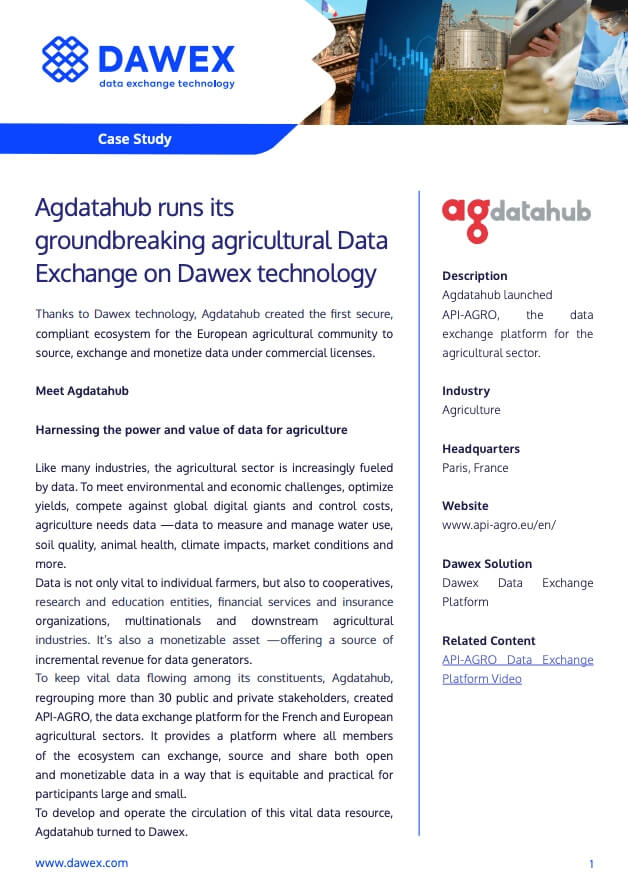 Agdatahub, a Lighthouse Project for Gaia-X
Dawex Customer Agdatahub has been selected by Gaia-X as Lighthouse Project for its role in accelerating the European agriculture transformation. This demonstrates the alignment of Dawex Data Exchange technology with Gaia-X vision to create trusted data infrastructures to strengthen the ability to access, share and exchange data securely and confidently.
Leveraging ODRL for Compliance as Code
Compliance as Code, powered by the Open Digital Rights Language (ODRL), is revolutionizing the way organizations automate compliance checks and validation, ensuring data security and regulatory adherence.
Review Dawex presentation and key takeaways on the transformative power of ODRL.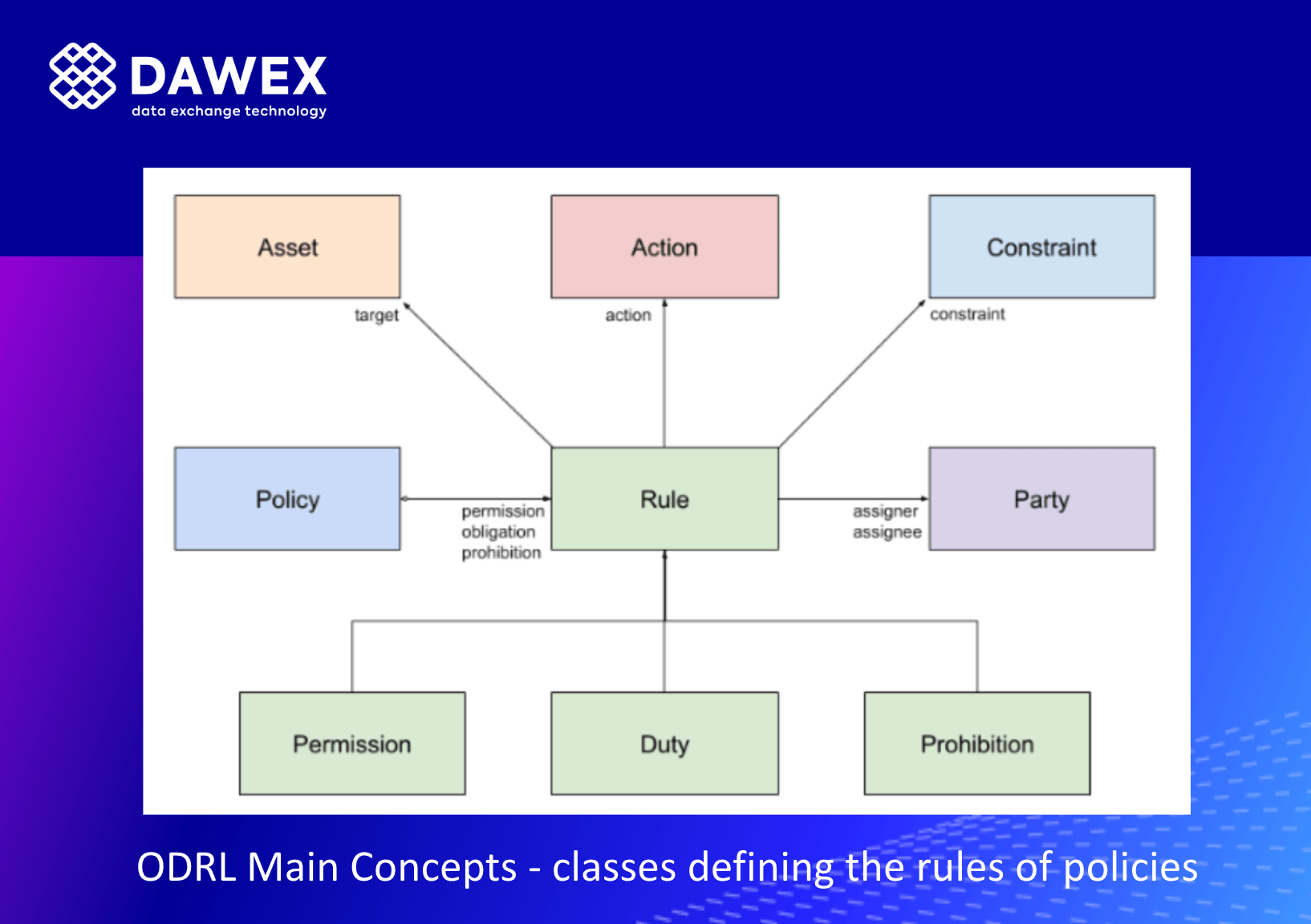 Gaia-X Milestone, propelling Data Exchange
Gaia-X's recent publications of the Trust Framework, Reference Architecture, and Data Exchange Services Specification have ignited a transformative era for data exchange, fostering secure and trustworthy data ecosystems.
These groundbreaking documents, the result of extensive collaboration and technical maturity, establish guiding principles, common understanding, and prerequisites to foster new data ecosystems.
Moving towards a regulatory framework
With the Data Governance Act and the upcoming Data Act, the European Commission aims to make the EU a frontrunner in a society powered by data. By establishing a unified data market, it will allow data to flow within Europe and across sectors for the benefit of businesses, researchers and public administrations.
The new regulations are expected to create €270 billion in additional GDP for European state members by 2028 by addressing the legal, economic, and technical issues that lead to underutilized data.
With more data available, organizations, businesses, consumers and users will be able to make better informed decisions, and address economic, environmental, climate change, decarbonation and social challenges the world is facing.
Gaia-X plays a key role in contributing to building a regulatory framework, with the aim to foster an environment where European organizations can operate with trust and maintain their sovereignty over data thanks to regulated data exchanges.
Interested in building a Data Exchange Platform?
Data exchange is more and more in the agenda of organizations. To explore how to develop a thorough data exchange strategy and implement a Data Exchange Platform, get guidance from Dawex experts.