Meet Dawex leadership team
Market creators. Innovation drivers.
Leadership team
We have fostered a culture gathering the best conditions for people, ideas, and innovation to grow, thrive and prosper.
Our leadership team is composed of passionate experienced individuals, working hand-in-hand as one team to provide forward-looking solutions and exceptional customer experience to our clients.
Dawex ambition is to deliver cutting-edge Data Exchange technology and accelerate secure data sharing for all economic stakeholders.
The co-founders words
"We are two experienced entrepreneurs, both deeply convinced that data irrigates the economy."
We created Dawex in 2015 with one mission: to facilitate and accelerate secure data circulation between economic stakeholders, institutions and private organizations, contributing to the development of the data economy.
Today, thousands of organizations rely on Dawex Data Exchange technology to source, share and exchange data, and to orchestrate data circulation within their ecosystem.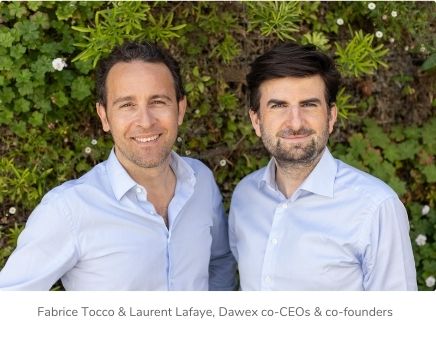 Renowned research firms like Gartner, Forrester and 451Research recognize Dawex as the most advanced, mature solution on the market for data exchange.
This exciting adventure is just beginning, in June 2020, Dawex was awarded "Tech Pioneer" by the World Economic Forum, and joined a two-year program on Data Policy. Also, Dawex was invited to join the Global Future Council convening 30 of the most relevant and knowledgeable thought leaders on data.
In 2020, Dawex also co-founded the Data Exchange Association - DXA - a global non-profit association dedicated to accelerating the economy through data exchange innovations scaled-up for impact.
Didier Navez
Senior Vice President Data Policy & Governance
"I am a data value generation expert who thinks strategically and always puts clients first."
Alexandre Penon-Vaudoyer
Senior Vice President Strategy & Development
"I am a Strategy and Marketing expert who loves tackling issues mixing Business and Technology."
Isabelle Joulot
Vice President of Communications & Marketing
"I am passionate of Marketing and Communications, striving to grow organizations."
Frédéric Bellaiche
PhD and VP Technology & Research - Gaia-X Data Exchange Services WG Lead - GXFS-FR Data Exchange Lead - Member of DSSC EG8 Expert Group
"I am inspired by quantum computing and bring the latest innovations in our products."
Morgane Commowick
Vice President Product and Customer Operations
"I am a user-centric product leader striving to maximize customer success."
Stéphane Vaquer
Director of Engineering and Research
"I love tackling complex subjects to guarantee technology excellence."
Sophie Der Baghdassarian
Director of Finance
"I am enthusiastic about finance and eager to accompany organizations in their growth."
A human adventure relying on strong values
A talented team, committed, enthusiastic and determined to create a strong and lasting impact on the future of the data economy.
Once upon a time…
It all started with a fundamental observation: there was no structured
data marketplace
for trading or exchanging data… This kicked off Dawex exciting adventure, leading us to be awarded
"Technology Pioneer"
by the World Economic Forum!