Data Exchange Platform
Operate your own data marketplace to fully engage with your ecosystem.
Create your Data Exchange Platform and unlock the value of data
Our solution is designed to support your organization at every step of your digital transformation journey and data monetization initiatives.
Data sharing
Optimize data sharing across your organization.
Streamline, secure and facilitate data flows across your divisions and subsidiaries. Remove data silos. Improve data literacy and foster a data culture throughout the company. Manage your data as an asset.
Data sourcing
Optimize external data sourcing.
Onboard and manage external data providers. Keep full control over your growing data providers ecosystem. Standardize data submission processes. Facilitate data discovery.
Data commercialization
Engage in external data exchange and monetization.
Identify and manage data acquirers outside your organization. Take advantage of cross-sector, cross-border business opportunities. Combine free and paid data sharing. Generate high-margin recurrent revenue streams. Improve your bottom line.
Data orchestrator
Become the orchestrator of a two-sided data ecosystem.
Bring additional value to your clients, suppliers and partners. Become a data company. Maximize the benefits related to your orchestrator role at the center of new data ecosystems.
The most complete solution to exchange data
Data providers and acquirers on a Data Exchange Platform benefit from multiple integrated functionalities making data sharing, sourcing and monetizing easy, effective and secure.
Engage with interested parties directly on the platform
Contact, question, discuss with your counterparties. Distribute and access the data easily and securely. Negotiate and conclude licensing agreements. Manage payments.
Manage your data exchange
Operate your Data Exchange Platform thanks to a fully-featured Back Office management tool.
Manage participants
Take advantage of a complete ready-to-use member vetting and onboarding process or customize it to your needs
Manage and monitor your members' profiles
Stay on top of who is participating to your Data Exchange Platform (internal and external members)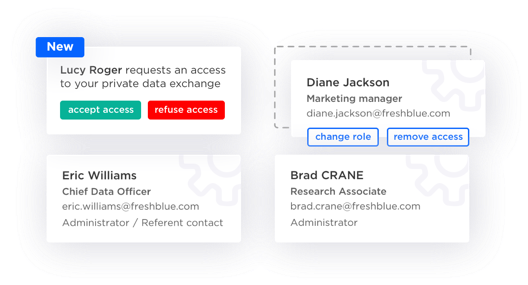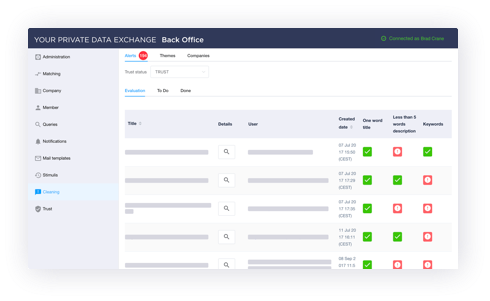 Promote quality and engagement on the marketplace
Use Machine Learning algorithms in order to match data supply and demand, allowing for proactive suggestions to members
Monitor members submissions, including automatic reminders and tips sent to improve marketplace attractiveness
Rule-based communication tool to define member sollicitation levels precisely
Activity monitoring and reporting
Full activity monitoring on your Data Exchange Platform, providing 360 degrees visibility on members, products, interactions, and transactions
Take advantage of multiple standard reports and build new ones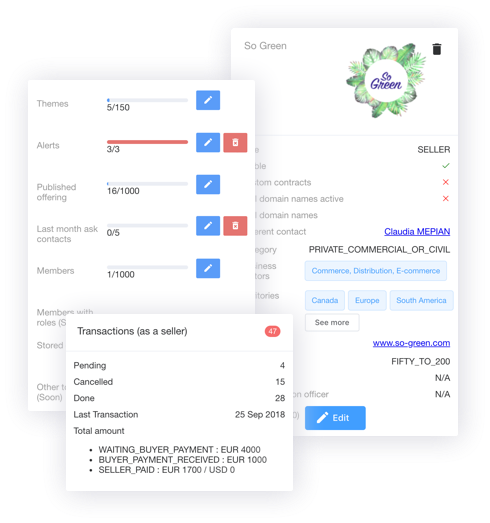 Keep full control over your own data
Stay on top of your data. Control precisely how your data is being used, and by whom
Decide who can access and use your data
Vet and decide who can access your Data Exchange Platform
Expose your data broadly on the marketplace, or restrict its access down to the individual level
Accept or refuse access requests at data offering level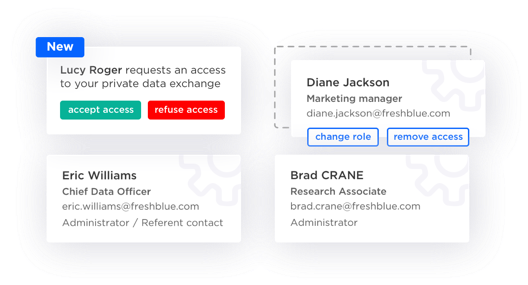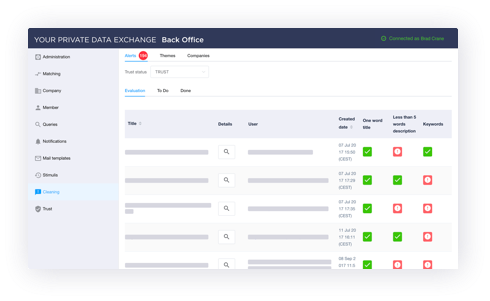 Control how your data is being used
Configure permitted usages for your data with maximum flexibility and granularity
Combine free and paid data offerings on your Data Exchange Platform
Monitor who is interested by your data and who is using it
Customized and integrated to your systems
Each Data Exchange Platform (DEP) implementation is uniquely configured and personalized to match your business requirements.
Configure your DEP based on selected use case(s)
Pick the functionality that matters right now, whether you want to roll out an internal data sharing platform or a fully-featured 2-sided data marketplace
Activate new functionalities over time in line with your business strategy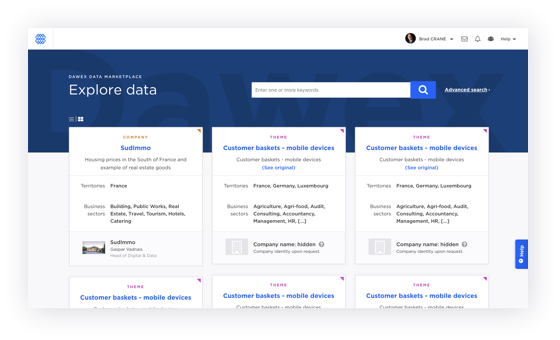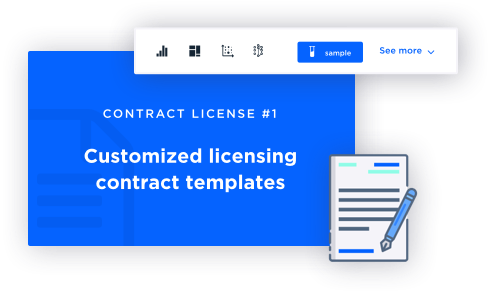 Customize your DEP based on specific requirements
Business and functional (industry-specific taxonomies, data visualization tools,…)
Legal and regulatory (customized licensing contract templates,…)
Technical (hosting environment,…)
Integrate your DEP to your Information Systems and Architecture
Company portal integration
Identity and Access Management tools integration (SSO and entitlement)
Legacy systems (CRM, HRM, …) integration, to access key customer or user data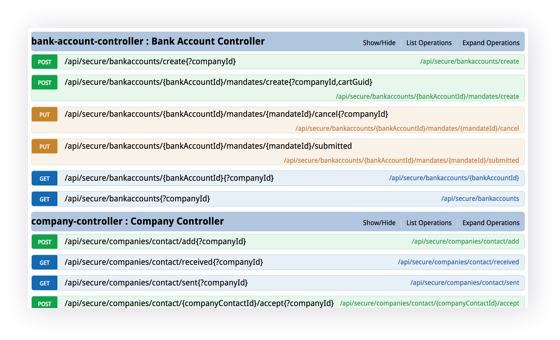 Highly scalable & secure architecture
Your Data Exchange Platform is hosted in the cloud, allowing for maximum flexibility to match your specific requirements.
Our platform architecture is cloud provider-agnostic, and meets highest security standards.

Host your Data Exchange Platform with the cloud provider of your choice amongst major international and local players.

Configuration is adapted to your needs to address specific scaling, high performance, high availability, multi-regions requirements.

Each data provider on your Data Exchange Platform is able to select the location of the Data Centers where their data is stored.
Deploy and scale
Dawex experienced teams provide all the support required to get your Data Exchange Platform live in record time.
Scoping
Our team will help you scoping your DEP project and defining an effective implementation plan:
Validate use case(s) for the DEP
Validate configuration, parameterization, customization and integration requirements
Validate DEP governance structure
Dawex approach is pragmatic, time-boxed, and based on a fixed number of topical workshops involving key members of your organization (cross-function).
Set up
Dawex professional services team will take care of the initial set up of your Data Exchange Platform, based on agreed requirements:
Configure Data Exchange Platform
Do the customization and integration work as required for launch
Additional work may be required over time when implementation plan has defined a phase approach.
Training
User's journey on the platform is intuitive, including contextual tips and online help.
Dawex training program focuses on best practices for optimizing marketplace effectiveness:
Data providers expert class
Data acquirers expert class
DEP administrator expert class
Get the most of your platform with our professional services
Do you want to outsource the operation of your Data Exchange Platform ? Our professional services team is available to complement or take full responsibility for certain activities.
Training
As you keep onboarding new users (employees and/or external participants) on your Data Exchange Platform, Dawex provides training programs
"Train the trainers" programs are also available for accelerating knowledge transfer within your organization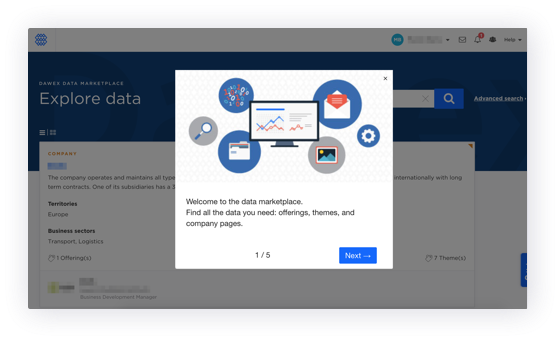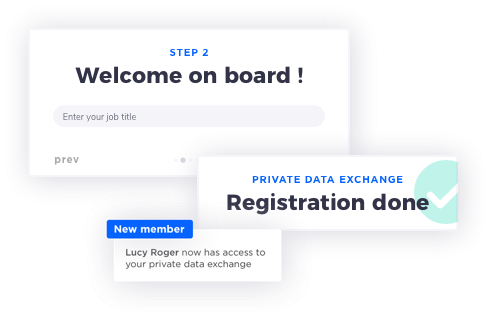 Operation
On-boarding process of new members on your platform
Facilitation, activity monitoring, member engagement
Support
Functional and technical support to your employees
Functional and technical support to partners joining your Data Exchange Platform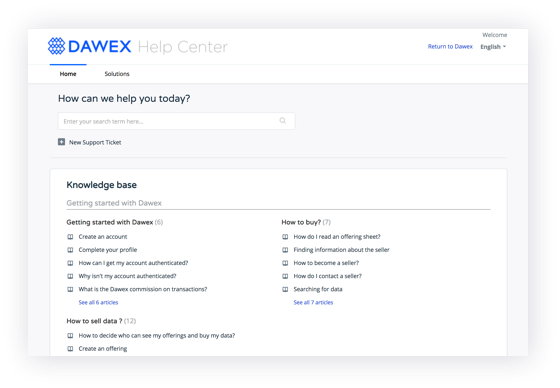 Share our experience
Let's start a conversation. We'll share with you our experience and vision about data sharing and monetization within large organizations. From board-level strategic discussion to very operational questions.