The use of Artificial Intelligence has dramatically increased within all types of organizations over the recent years, moving to a new phase of industrialization. According to Gartner, "by the end of 2024, 75% of enterprises will shift from piloting to operationalizing AI, driving 5X increase in streaming data and analytics infrastructures."
AI technology powers real-world applications, ranging from facial recognition to language translators and a myriad of other consumer applications. Organizations are increasingly harnessing Artificial Intelligence's power in their operations, in every sector of the economy, whether for predictive maintenance, optimized logistics, personalized healthcare, urban traffic management or precision agriculture. It doesn't come as a surprise then that so many organizations around the world are accelerating the deployment of new Artificial Intelligence capabilities. However, this trend doesn't come without challenges.
Unlocking AI requires better access to algorithms and data
Improving algorithms and Machine Learning require vast amounts of data, much more data than any single organization can generally produce on its own. As a result, the only way to build AI systems capable of delivering superior performances is to obtain additional data from external sources. This is probably where the biggest challenges reside, with many barriers to overcome as multiple stakeholders engage in data/models discovery, access and exchanges.
Market interest is clearly there though, a study from MIT Technology among 1000 leaders and AI experts from around the world shows that "66% of companies are willing to share data externally to help develop new AI-enabled efficiencies, products, or even value chains."
AI offerings are multiplying too. Thousands of AI-focused startups worldwide are building AI models and commercializing use case-specific AI services to organizations that did not internalize such capabilities. On the corporate side, an increasing number of large enterprises, the most AI-savvy ones, are seeing the opportunity to monetize their own models and algorithms to other organizations through new AI-as-a-Service offerings.
As the supply and demand for data and models are getting traction, one additional component is becoming the ultimate enabler for the acceleration of data exchanges for AI: dedicated marketplaces allowing the secure exchange and monetization of models and data, at scale.
The role of AI marketplaces
An AI marketplace is a trusted platform environment where AI models providers, data providers and AI models users can easily find each other, meet, engage and conduct AI-data transactions.
Organizations have various reasons to join an AI marketplace, among them:
- Company A (i.e. the AI producer) wants to improve its AI models by leveraging training data from other organizations through data partnerships and all participants (ie. the AI consumers) benefit from the trained model
- Company A wants to bring a new value proposition to the market and commercialize its trained AI models more globally, to multiple AI consumers around the world
- Company B (i.e the data provider) is willing to share training data with Company A even if it does not intend to use the resulting trained model, and will do this against other types of benefits (remuneration, credits to use other models, etc.)
Building a trusted and secure environment for exchanging AI models and data
An AI marketplace brings trust to its participants, and it starts with the onboarding and vetting processes defined and handled by the organizations in charge of operating the AI marketplace (i.e. the orchestrator), ensuring that each participant abides by the platform's terms of services.
AI models providers describe and publish on the AI marketplace models offerings, specify the terms and conditions of use, conclude agreements with future users and monetize usage, while AI models users can search and discover a broad range of models and algorithms made available in a one-stop place.
AI models providers also describe and publish on the AI marketplace their needs for training data, as well as the proposed remuneration or incentive for those willing to share their data, while interested data providers can respond to these requests or proactively publish data offerings on their own terms.
Contractualization (defining responsibilities, rights, IP ownership, remunerations, etc.) is an important capability brought by an AI marketplace, allowing to clearly define the business relationships and legal framework between a potentially large group of companies, ensuring a fair share of the costs and benefits between participants.
The ability offered to participants to choose between several operating modes for exchanging and accessing the data and the models is also utterly important as expectations and requirements may vary depending on the participating organizations:
- The data provider may not want its data to move to the algorithm, whether it is for cost or performance-related reasons, for meeting regulatory requirements or because of the sensitive nature of certain data.
- The AI models providers may be reluctant to transfer their models and algorithms to their customers' facilities
The AI marketplace brings the unique capability of providing participants with neutral and highly secure zones where the algorithms and data can safely meet. These zones are dedicated to models training and/or execution.
They are particularly useful for implementing "Federated Learning" approaches, allowing the training of AI models using proprietary data that cannot be shared, only making results, i.e. the partially trained models, available to the other participants engaged in the collaborative training process.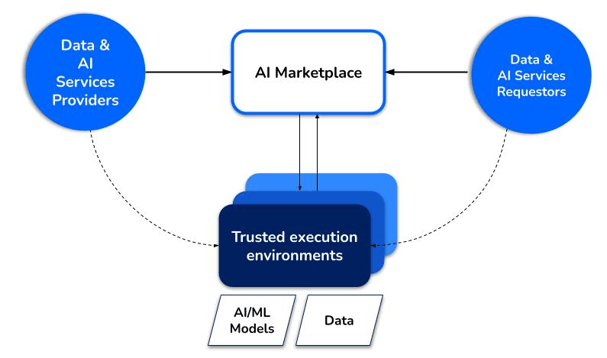 Data Exchange, the driving force behind the AI marketplace
AI marketplaces are the logical continuation and enrichment of data exchange platforms. They bring all functions together in a single point of convergence. They facilitate and organize the flow of data and the access to AI models among multiple stakeholders. They raise confidence among organizations deploying ambitious AI strategies or just starting their AI adoption journey.
To a larger extent, AI and data exchange platforms contribute to the definition of new data infrastructure standards, such as those worked out by European Gaia-X initiative, linking the provision of advanced AI smart services with sovereign data exchange capabilities (one of the key Gaia-X Federation services).
Collaboration is essential and the only way to reap the full benefits of Artificial Intelligence. Data and models must be shared and circulated. So be among the winners by making Data Exchange and AI marketplaces the pillars of your Data and AI strategy.
Accelerate your AI strategy now
Get more insightful content, register to Dawex Newsletter now!