Mobivia propels its organization by leveraging data exchange to create a powerful automotive & mobility data ecosystem - Interview with Ludovic Codeluppi, Business Data Lead
Meet the challenges of mobility and expand your influence thanks to Data Exchange.
The mobility sector is undergoing major transformation with the electrification, strict emission requirements, better connectivity... The volume of data generated by the sector, thanks to connected and electric cars, is growing exponentially.
The circulation of these data, fostered by players such as Mobivia, actively contributes to the development and future of the automotive industry and its ecosystem. Improving the safety and durability of equipment, creating new value-added services, increasing brand equity... Data has become a strategic asset with unlimited potential, contributing to addressing economic, environmental and social challenges.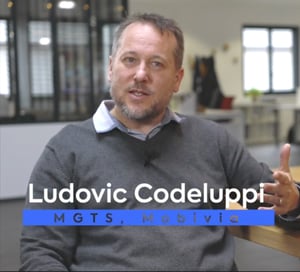 Mobivia, leader in the European automotive aftermarket with 2,000 points of sale in 18 countries, understood the potential of data and created Afteriize, the first data marketplace dedicated to mobility.
Afteriize Data Marketplace relies on Dawex Data Exchange to securely source, distribute, exchange and monetize data products, in compliance with regulations, to ultimately enable Mobivia to orchestrate an entire data ecosystem.
In this interview, Ludovic Codeluppi comes back on Afteriize and Mobivia's ambition in a very competitive automotive and mobility market.
Dawex: What triggered your thoughts to get into Data Exchange?
Ludovic Codeluppi: Three years ago, when we started exploring the subject, we didn't talk about data exchange the way we do today. We have been witnessing an acceleration of practices and regulations related to data exchange. This forced us to address data exchange if we want to remain competitive. Data exchange has almost become a survival issue, especially in the mobility sector, which is being shaken up by numerous challenges linked to the environment and the digitalization of the economy.
With the approval of the executive committee, we then started to think about the best approach. Initially, we were only considering commercializing Mobivia's data that we knew was of value to our suppliers' marketing teams.
Pretty quickly, we realized that data exchange could allow us to take a central place in our ecosystem.
Dawex: How did you come to this appreciation?
L.C.: Initially, we considered doing everything in-house or calling on a big consulting firm. But we didn't have a clear vision of the strategy and even less of the roadmap.
Thanks to Dawex Data Exchange Advisory team, we were able to ask ourselves the right questions:
What data can we commercialize?
What is their value?
How can they be exchanged?
How can I be sure that I am compliant with data regulations?


This Advisory phase was essential to define our requirements. During these workshops, we also realized the benefits that not only Mobivia, but also the entire mobility sector in Europe, could gain from the creation of a dedicated data marketplace.
This led us to build a much larger ecosystem than the one we had originally imagined. By granting access to Afteriize to other data providers related to mobility challenges, such as insurers, banks, hedge funds, we have expanded our influence beyond our ecosystem while strengthening our leadership position.
Dawex: Why did you choose Dawex?
L.C.: We chose Dawex for its expertise, which was essential in the project scoping phase, and for the depth of its solution, addressing simple subjects as well as the most sophisticated ones thanks to the large set of functionalities.
The platform is operational since June 2021. Since the beginning, we benefit from the support of the Dawex teams to deploy and operate the data marketplace as well as the regular evolution of the solution at no extra charges.
Finally, and this is an essential point in our industry, the solution is secure and perfectly aligned with the different international laws and regulations on data. These elements are comforting us in the choice we made in Dawex.
Dawex: Your data marketplace is called Afteriize, why did you create a separate brand?
L.C.: To position Afteriize at the center of its ecosystem, it was important to show users, i.e.data providers and acquirers, the independence of the data marketplace from Mobivia.
The creation of a dedicated brand allows Afteriize to exist as such and to radiate within its ecosystem. For Movibia, it is also a way to capitalize on a new asset whose value will continue to grow.
Dawex: Where is Afteriize today and what are your ambitions?
L.C.: Afteriize was profitable after 6 months! It allowed us to create partnerships with players we had not imagined and to expand our ecosystem.
Today, our users benefit from the data available on the platform to perfect their commercial strategies, to better know their customers, to get feedback on product behavior or to understand the second market.
Afteriize's ambition is to become the European leader, or even the global leader of the data exchange market in the field of mobility.
Discover the Data Marketplace solution
Want to hear more about the benefits of Data Exchange? Subscribe to our newsletter here.