We are honored to share an exciting announcement with you today: for its 20th edition, the World Economic Forum appoints Dawex as a Technology Pioneer, a recognition of its implication in the data economy.

This is an acknowledgement of the importance of data exchange and highlights the need to:
- Structure the data economy around common policies, frameworks and standards
- Position data exchange as a key driver of organizations' business growth and data valorization
- Increase data literacy and empower employees, decision makers and citizens to use data in a fruitful way
- Encourage the constitution of large, multi-sectoral data ecosystems

In light of the Coronavirus crisis, data exchange and circulation appear as essential links of public health and economic recovery worldwide. In a post-pandemic world, organizations need to leverage the capabilities of tested and mature data exchange frameworks.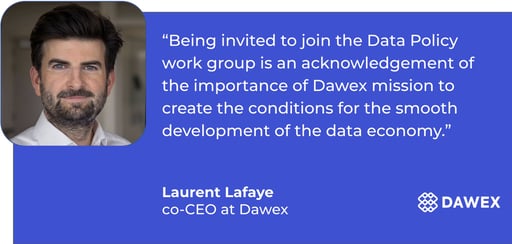 Organizations need more data, from multiple sources, to make fast and informed decisions. They also need to rely on a secure data exchange environment to operate data transactions.
For organizations, leveraging internal and external secure data exchange now is a must to achieve the necessary responsiveness and adaptability to all kinds of future economic challenges. It is high time to end the data lockdown!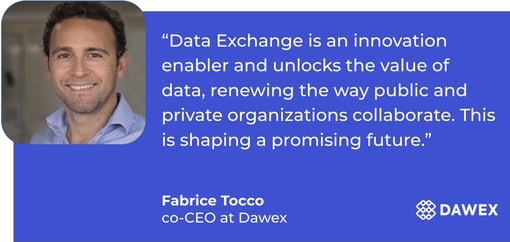 New opportunities for public and private partnerships will arise as more organizations enter the data exchange era on an international level. This paves the way to building a global data economy at scale.

With this recognition as Technology Pioneer, Dawex joins a 2-year program and will contribute to the Data Policy platform, a work group leading the World Economic Forum's approach to data policy and data governance. Within this platform, Dawex will work along with two American, one Canadian and one Chinese awarded companies and in the discussions offer a European perspective.
We are excited to contribute and bring our expertise, and help co-design trustworthy data policies in order to fuel innovation and accelerate responsible use of data.

For more information:
- Discover the full story page https://www.dawex.com/en/about/world-economic-forum-tech-pioneers/
- Read the press release https://dawex.com/en/news/dawex-awarded-tech-pioneer-world-economic-forum
- Get our introduction paper to data exchange https://info.dawex.com/what-is-data-exchange