In the Spotlight: European Parliament's Pivotal Vote on the Data Act
Today, the European Parliament voted by a large majority for the adoption of the Data Act. This concludes a 20-month process since the European Commission's proposal in February 2022, during which the text was debated, negotiated and amended, until a political agreement between the European Commission, Parliament and Council was reached in June 2023. The European Data Act aims to boost the EU's data economy by unlocking industrial data, optimizing its accessibility & use, and fostering a competitive & reliable European cloud market. The regulation will enter into force on the 20th day following its publication in the Official Journal and will become applicable 20 months after the entry into force.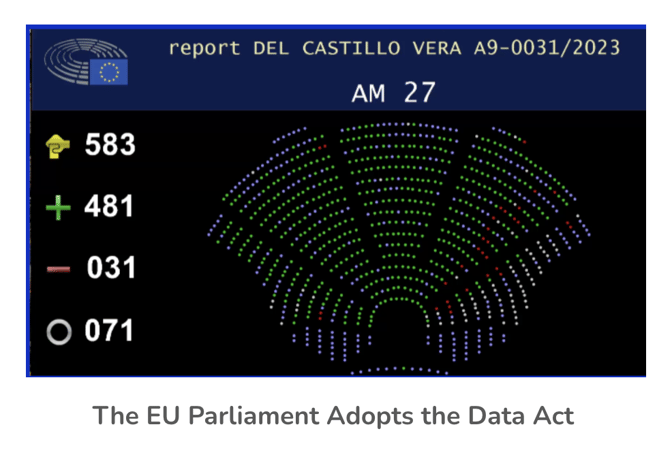 The Data Act complements the Data Governance Act that is in application since September 24, 2023, by clarifying who can create value from data and under which conditions.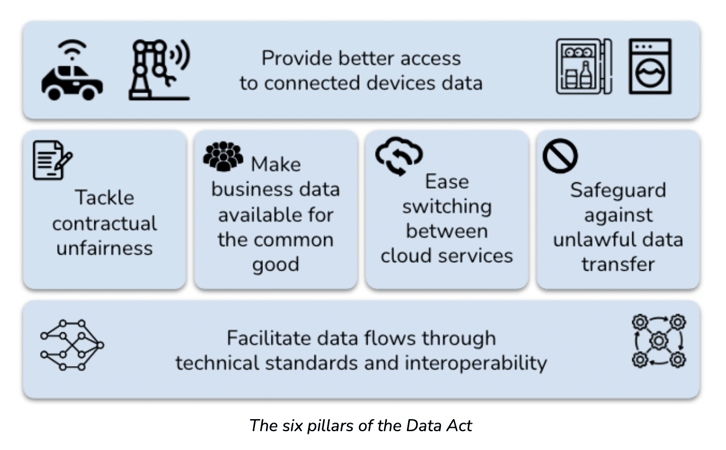 The Data Act is built around six key pillars:
Enabling users of connected devices to access collected data and to request the sharing of these data with third parties. By facilitating access to data by businesses and consumers, as well as third-party organizations, the regulation intends to stimulate innovation and competition. A major insurance company1 sees advantages in broader vehicle data accessibility enabled by the Data Act, envisioning its potential for tailoring individualized and risk-adjusted insurance premiums, improved accident prevention, and smarter claims management, also emphasizing the innovative prospects of using such data to address urban parking challenges, improve air quality, and transportation safety.
Providing protection from unfair contractual terms that are unilaterally imposed. When contractual clauses grossly deviate from good commercial practice in data access and use, and are contrary to good faith and fair dealings, those clauses will be non-binding. The Data Act aims to foster fair negotiations and enable organizations, especially SMEs, to participate more confidently in the digital marketplace.
Allowing the access and use by public sector bodies of data held by enterprises in cases of public emergencies such as floods and wildfires, or when the required data in the context of a legal mandate is not readily available through other means. Formal request procedures are put in place, where data can be requested on an exceptional need basis, to respond to, prevent, or address the aftermath of a public emergency
Granting customers the freedom to switch between various cloud data processing service providers. These rules aim to promote competition and prevent vendor lock-in. These provisions are particularly important given the growing number of organizations wishing to operate or participate in data exchange ecosystems in a sovereign context. The text responds well to this need.
Putting in place safeguards against unlawful data transfer without notification by cloud service providers, ensuring a more reliable and secure data-processing environment.
Promoting the development of interoperability standards for data-sharing and data processing, in line with the EU Standardisation Strategy. The regulation stipulates that operators of data spaces must meet certain essential requirements to facilitate the interoperability of data and data exchange mechanisms. In particular, it requires that descriptions of the data, use restrictions, licenses, access methods, including APIs, and other information be made available to enable the recipient to find, access and use the data.
The Data Act is an important piece of legislation that will impact all organizations in every industry sector. By facilitating access to data, setting up guardrails, promoting fairness, standards and interoperability, the Data Act addresses major ingredients that contribute to creating trust between the various stakeholders involved in data exchanges. Increased trust will stimulate data circulation and hence accelerate the growth of the data economy, with its share of innovation and value creation benefiting the entire economy and society in general.