How do data intermediaries build trust, ensure compliance and orchestrate data ecosystems through open principles and standards?
At the 2023 edition of BDVA Forum, Dawex Vice-President Technology & Research Frederic Bellaiche explored the principles that data intermediaries employ to build trust, ensure compliance, & orchestrate data ecosystems through the adoption of open standards and principles.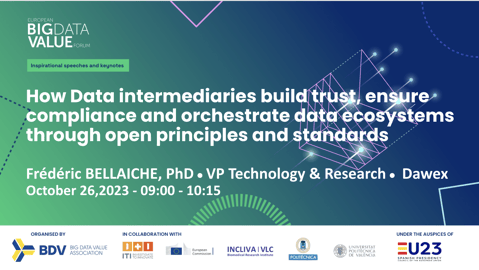 In today's data-driven world, data intermediaries play a pivotal role in connecting data providers with consumers while ensuring security, compliance and trust with evolving regulations and ecosystem frameworks like Gaia-X.

Through trust frameworks, auditability mechanisms, consent and authorization management, Compliance As Code and Self Sovereign Identities, data intermediaries establish trust among stakeholders, enable transparency, controls and compliance with regulations, fostering confidence in data exchange, driving continuous improvement and adaptability within the data ecosystem.
Review Frederic's presentation and don't hesitate to reach out if you want to further explore the topic.