Laurent Lafaye participated on November 20th, 2020 in a roundtable during the Pan European Gaia-X Summit, alongside top representatives from a broad range of European data services and expertise. He presented the role of Data Exchange in building a trustful European Data Infrastructure. Data Exchange belongs together with Identity, Trust, Consent, Compliance and Cataloguing to the Federation Services. As such, it bridges the infrastructure ecosystem and the data ecosystem.
#1 Gaia-X's main challenge: organize the fair and trustful circulation of data
The circulation of data is the way to create new direct or indirect revenues, to optimize business processes and costs, to develop data partnerships and as a consequence increase company value. These benefits are made possible only by achieving a high level of trust between the stakeholders involved at the various stages of the circulation of data.
Data acquirers engaging in data transactions need an environment where they can trust that the data providers are acting in good faith. They need to be sure that their transaction is secure and compliant with data regulations. Bottom line: trust is the cornerstone of data circulation. The question now is: how can Gaia-X provide a full range of data services, which are robust enough to ensure the traceable, trustful, secure circulation of data?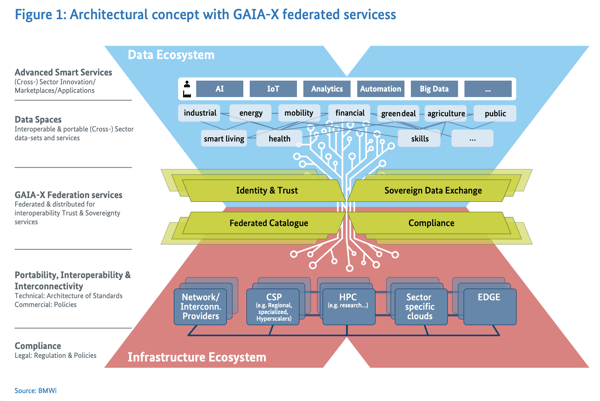 The Architecture of the Gaia-X initiative from the "Gaia-X: The European project kicks off the next phase" document
#2 A solid Data Exchange environment enables trust
A Data Exchange is a dedicated place where public and private organizations can orchestrate data circulation between different stakeholders, source, distribute, acquire and exchange data securely, in full compliance with regulations. They rely on three key Trust principles:
- Trust that the data is accurate
- Trust that the source of the data is verifiable
- Trust that the circulation of the data is secure
Therefore, Data Exchange acts as a trusted third party to organize the circulation of data: data acquirers and providers retain full control over their data operations. Data Exchange has a crucial role in the building of the European Data Infrastructure: it bridges all the building blocks of the data value chain, between the infrastructure ecosystem and the data ecosystem, i.e. the broad range of cross-sector data uses.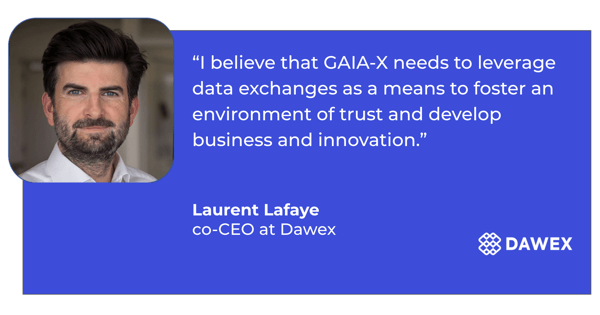 #3 For optimal implementation, Gaia-X requires a framework built on public and private partnerships
Gaia-X is a major opportunity to encourage the development of attractive and fruitful Europe-wide data ecosystems. It is Data Exchanges' mission to connect data regulations for each economic area and country, both for personal or industrial data. It corresponds to a global dynamic. Excellent examples are coming from all over the world. Today, many countries have set up rules and regulations regarding the use of data. The most famous one is GDPR in Europe, but California, Japan, Canada and many other countries are following.
Everyday, Dawex accompanies the creation of data ecosystems across sectors and industries, with a broad variety of public and private organizations. We are convinced that public-private partnerships are a solid foundation upon which to build trustful data ecosystems. In Asia, we observe successful initiatives in Korea and Japan. In Europe, Agdatahub (Read the case study) deploys a Europe-wide data ecosystem, bringing together public and private stakeholders of the agricultural sector. Such initiatives have to serve as case studies to grow the dynamic Europe is impulsing today with Gaia-X and upcoming new data regulations.
To make the fair circulation of data a reality, we need Europe-wide data ecosystems built on public-private partnerships. Dawex is thrilled to be part of a true European-wide data ecosystem and create the single market for data. We look forward to telling you more about the initiative's further developments!
Get more insightful content, register to Dawex Newsletter now!